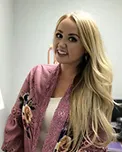 Started with Practice:
November 30, 2021
College:
Indiana State University, Bachelor of Science in Nursing
Masters:
Indiana State University, Master of Science in Nursing
Memberships / Honoria:
American Association of Nurse Practitioners
Brief Bio:
ElAnn is a Board Certified Family Nurse Practitioner with over 10 years of experience. She's worked in a vast array of settings, but Pediatrics has always been a passion of hers. She spent over three years working at Peyton Manning Children's Hospital in Indiana working inpatient care, which included hematology and oncology. She's spent the last four years working in allergy and asthma and is excited to get back to pediatric focused care.
After becoming a parent herself, ElAnn's passion for pediatrics grew while taking care of her own little ones. She values health and wellness and looks forward to providing excellent care to children and their families.
ElAnn is married to a first responder and they have two children, both boys under the age of two. She enjoys spending time with her family, traveling, as well as watching and playing sports.